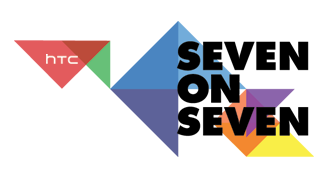 Seven on Seven stormed New York for seven hours yesterday. Hosted for the first time at The New School to pack in everyone wanting to attend, the event – more of an experience and experiment than a conference – saw 14 super talented individuals come together. Over 450 of us gathered in the Tishman Auditorium to hear the output of the seven unique pairings: seven artists and seven technologists who had been teamed together, never before having met, to collaborate over 24 hours.

The teams were first introuced over dinner on Thursday night, briefed on Friday morning, and Saturday was all about revealing how they had found common ground and shared passions to determine how and what they would create together.
These 14 characters are all leaders in their respective fields and it was a pleasure to witness their unique insights, smart thinking, presentation skills and sheer gusto.
What follows is a short synopsis of the seven teams' work. Videos of each presentation will soon be available here. As ever, it was an honour for W+K to be part of shaping this anual event and many thanks go to Heather Corcoran and all at Rhizome for their excellent thought leadership in making this a great success. 

Paul Pfeiffer is a sculptor, photographer and video artist. He had spent 24 hours with Alex Chung, a creative technologist of multiple start up fame. They explored the topic of repetition, both stimulated by its impact, be it through hearing the same beats (music), having the same thoughts (hypnosis), saying the same words (mantra) etc. For them, their shared love is the repetition of image – Paul a pioneer of looped image from the 90s and Alex as creator of an animated gif search engine. They wanted to appropriate this for good and together created giphnosis.com – a site hosting downloadable screensavers to determine one's mood.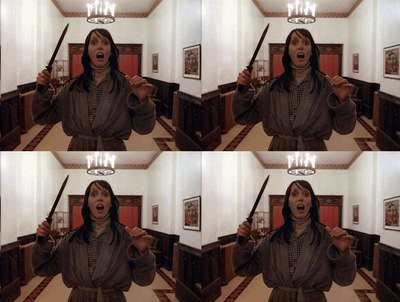 Be it a scene from The Shining or a shot of a litter of cute kittens, they set out to test the theory a looped image can hypnotize you into a state of mind. You can check out the site and download wallpapers to test this yourself…

Fatima Al Qadiri is a visual artist and composer. She and Dalton Caldwell, CEO of App.net, found common ground in their pursuit for the antidote to information overload. The anxiety of being offline, the trend of inanimate objects like a bottle of water inviting you to follow it on Twitter or befriend it on Facebook, the visceral reaction to the news 'created' to fill 24-hour reporting… To rub against the mass streams of content 'always in beta', they created a finished article, something which couldn't be updated and would never change. This took the form of a short film, on constantupdate.net, which displayed choice words depicting the anxiety of constant notifications against a track composed from alert tones – the sounds we select on our phones or tablets to inform us of an update.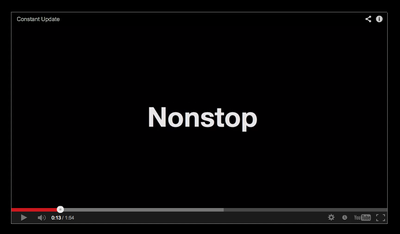 Cameron Martin lives in Brooklyn. His paintings and drawings have been exhibited across the globe. On Thursday he met Tara Tiger Brown, a pioneer in hacking who connects and promotes the LA tech start up community. They discovered that whilst they both behave very differently (Tara's life is predominantly played out online whilst Cameron is barely traceable in social media) as young parents on different coasts, they share a passion for informal and open learning. They are actively interested in how people learn from each other, teach themselves and mentor to support others in shared areas of interest. Neither Cameron nor Tara had previous expertise in 3D printing, so they wanted to use their time together to learn a new skill, combining art and tech. After their 24-hour immersive learning, they made use of their time on stage to share this with others. They invited a willing participant, Diego, to join them for ten minutes, design an icon in an app, then send it to 3D print there and then. With help from the knowledgable crowd and the #3Dhelper hashtag, Diego took up the challenge, designed and printed in real time, proving crowd sourcing learning is possible.

Rafael Lozano-Hemmer is a Mexican-Canadian artist. He had spent 24 hours with Harper Reed, 'probably one of the coolest guys ever', the famed hacker and engineer most recently CTO of the 'Obama for America' campaign. After collaborating at W+K NY's offices on Friday (including time out for a long lunch and a couple's massage!) they landed on the shared interest of 'erasing'. In a world over-populated with items, content and devices, there are certain things you can throw away which you won't even miss. To demonstrate this, they built friendfracker – a site which logs you into Facebook and at random, unfriends up to 10 of your contacts – totally wiping out your connection with those people.

You don't know who you are culling, not before, during or after the deletion, so you would need to hunt through your friends list to suss out who had been selected and removed. The idea sets out to prove that with so many 'friends' and contacts in our network, we might not miss a small selection. You can go online and try for yourself, if you dare.

Matthew Richie creates installations integrating paintings, wall drawings, light boxes and performance sculpture. He spent Friday working with Billy Chasen, an artist and software developer, founder of turntable.fm. They wanted their collaboration to create something tangible which would work immediately, have a real effect and would do some good. Their idea was to relieve the pressure, paranoia and sense of being pursued which surrounds charitable giving. So they created dabit.org – an incentivized fundraising mechanic: 50% of every donation each day goes to charity, the other 50% awarded at random to someone who has donated that day. So everyone who gives (no matter what amount) stands the chance of scooping half the sum of that day's total donations.
The pair invited those of us filling the Tishman Auditorium to start giving, with donations brought to life by real time data viz for all to see. Over $1,000 was pooled from the audience – we'll see if anyone comes forward as the lucky recipient of the $500+ prize fund…

Jeremy Bailey is a Canadian 'Famous New Media Artist' who uses performance to explore custom software. He spent 24 hours with Julie Uhrman, founder of the open source gaming console, OUYA. Their collaboration set out to reapproriate the standard presentation deck, converting this from a one way 'push' of words, images and bullet points, to a gaming-influenced two-way live video-based piece of comms. This addresses the mundane way in which ideas are generally shared, and plays on the vanity factor for those who love to present. The presenter becomes the enabler as you see yourself on screen with visual cues from the gaming world – like accumulating points accrued based on how well you present; bubble words to incentivize the presenter to gesticulate more or speak more clearer; golden stars for clear communication and good ideas! Jeremy's demonstration of this interactive way to get across an idea had the whole auditorium in hysterics.

Dennis Crowley, founder of foursquare, had had quite a week. After finding himself caught up in the Boston marathon, then being struck by a 24-hour bug, he was pretty wiped out by the time Seven on Seven came round. Despite this, he honoured his involvement and partnered with Jill Magid, NY artist who forms intimate relationships with the police, secret service, CCTV and forensic ID. They didn't have much time to collaborate with tangible output, but they talked the audience through their conversations in search of their common interest. It was engaging to hear how these two individuals are passionate about similar things but approach them in very distinct ways. Dennis likes to create apps to build communities; Jill is interested in creating art which is disorientating and disruptive. They mused about social behaviour: "Does something really exist if we don't document it?" "Would we change our behaviour if we knew in advance how it would be perceived by others?" "How do we celebrate the beautiful and emotional moments captured through data collection?" "Does checking-in to an ephemeral moment in time matter more than being there?" All interesting, open ended debate and they both agreed that opportunities can be missed when art and technology fail to combine.