This big week in the world of awards continued for WK London last night. Fresh from the BTAAs, it was off to the Park Lane Intercontinental for the CIMTIG Travel Marketing Awards. We awaited the awarding of the gong with green-cubed flashing lights in our cocktails and listening to the 'dulcet' Irish tones of Patrick Kielty. There was a hefty number of prizes to get through. 25 to be precise. But after all of those, 3 courses and few bottles of beverage, it was time to announce the big one:
The Integrated Campaign of the Year up to £1m.
With 4 other submissions in our category the competition was stiff. But we came out on top. The GOLD award (one of only 3 on the night) was soon safely in the hands of Visit Wales.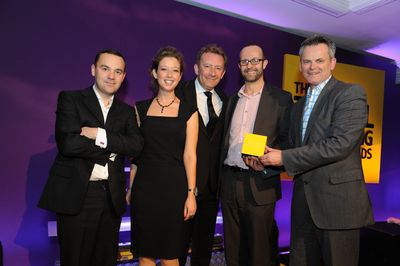 Whilst our agency team was a few men down we had the pleasure of Piers Bramhall's company on the night. It felt right to have the man who had fronted it all to be there working the room. A huge diolch goes out to everyone in the agency who worked on it. As well as our friends at KitCattNohrDigitas and Arena Media. And of course our lovely Welsh clients who put their trust in us to make this multi-layered, brilliantly ambitious idea come to life.
Here we are, just before it all kicked off on the dance floor.