Have you seen the new, re-imagined SouthernComfort.com? Our brethren at W+K New York designed and built it. It's a platform for drinkers to show how they like to drink their Southern Comfort. An open source website where any of you with a computer, tablet or smartphone can create your drink and share it with your friends, just the way you like it.
You just go to the site to make your own drinks, get recipes from other drinkers, and even learn about Southern Comfort's history. Drinks are customised from start to finish. Pick a container, fill it up with your pick of ingredients, add a garnish, name your drink, and share away. Your custom drink recipe will live forever on the site for everyone to enjoy.
In every nook and cranny of the site Southern Comfort's 'Whatever's Comfortable' spirit is present. Even the 404 page shares the tonality of the brand.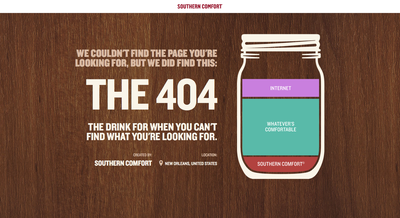 And it doesn't end there. There's even incentive to get involved with the site:
We invite you to Go Drink Yourself. Make a delicious drink recipe of your own on SouthernComfort.com, enter it into the Go Drink Yourself contest, and then share it with everyone you know to get as many MMM's as possible. (Yup, an MMM is indeed a Southern Comfort like!) Winners will be chosen from the best of the best drinks. And winners win a hand-crafted, one-of-a-kind mug featuring their face.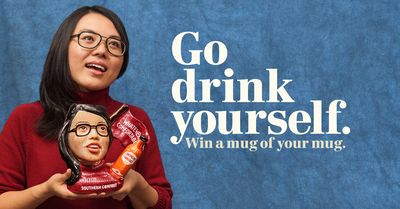 Ten lucky UK Southern Comfort drinkers will win a mug. So you know what to do – GO DRINK YOURSELF, people.