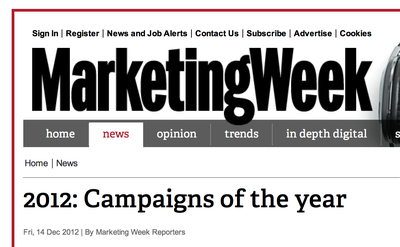 Marketing Week has run a piece on its favourite campaigns of 2012. It includes two from Wieden + Kennedy. Here's what they said:
P&G – Proud Sponsor of Mums (W+K Portland)
Procter & Gamble's global ad campaign for the Olympics would have melted even the coldest heart. Its Thank You Mum activity took a simple, if sickly sweet, premise and made it work as a corporate slogan and for its individual brands. Even with its blatant gender bias it managed to speak to every demographic in every nation by identifying a common insight.
This campaign earns its spot among the top campaigns of the year list purely for its seductive technique.
Southern Comfort – Whatever's Comfortable (W+K New York)
Southern Comfort marked its refreshed marketing activity this year with the launch of this "Whatever's Comfortable" campaign.
Slow, deliberate and methodical, the 90 second ad slot, with no voiceover and little narrative, doesn't even feature the product until its closing scenes in a creative execution that disrupts otherwise predictable ad air time.
The suspension of the product placement and overt brand messaging doesn't adhere to viewer expectations letting the accompanying backing track, folk singer Odetta's "Hit or Miss", carry the viewer through.
In the creative, Southern Comfort's pot-bellied, loincloth-wearing protagonist is clearly "comfortable" with himself as he saunters his way through crowds of 'beautiful people' on a sun-soaked beach.
The drinks manufacturer stepped up its marketing drive this year by  reputedly doubling its media spend from 2011 plus this execution also marks its first campaign with new agency Wieden+Kennedy New York.
Clearly, the creatives were given full license to 'wow' the new client and the viewing public