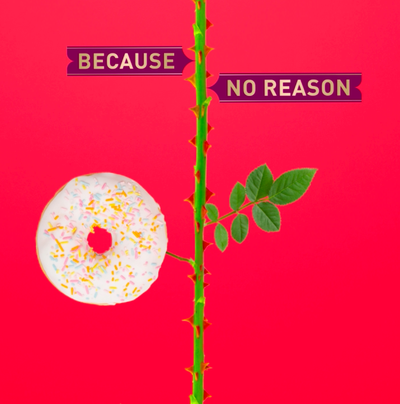 Valentine's Day is looming, and yet again the internet is full to the brim with clichéd romantic imagery — basically anything red and heart-shaped. Rather predictably, the most searched for Valentine's gift ideas include lingerie, flowers and diamond rings.*
Chambord says Bof to that.
Chambord is a French raspberry liqueur in a brilliantly over-the-top gold bottle. And in true French style, Chambord's essence is about doing what you like, not what's expected.
This is precisely why Chambord and Wieden+Kennedy have turned Valentine's clichés on their head with a series of shorts. From a diamond-munching ring box to a dozen red bowling balls, you'll find the animations disrupting social feeds filled with typical Valentine's gift ideas, encouraging people to do what they like instead. #BecauseNoReason**
Says our very own Anna-Claire Clendon, Digital and Interactive Strategist: "As women we are exposed to an enormous amount of pressure to prepare for the perfect Valentine's Day. It's all rather prescriptive: what to wear, what to bake, how to apply the perfectly winged eyeliner. Chambord is one of the only brands calling on women to care a little less and, if they want to, embrace the frivolity of Valentine's Day."
Now that's an attitude we can certainly get behind. Watch the animations below for the full Chambord Valentine's experience.
*Bing Search Insights

**These animations follow last year's bizarrely wonderful #BecauseNoReason campaign launch.
Why do gifts from the heart have to be heart shaped? The parallelogram is just as loving. #ValentinesGifts #GiftCliches #ChambordRoyaleInstead
Not all lovebirds love the rose. Some lovebirds prefer the bowling ball. What makes your heart go boom, boom, boom? #ValentinesGift
 
The gift that makes the heart flip flop is not always the shiniest. Sometimes it's the tastiest. #Valentines #ValentinesGift #BecauseNoReason