On the side, after hours, when his two adorable kids are asleep, W+K designer Greg art directs, designs, art works and pretty much completely produces an art culture magazine called
VNA
(Very Nearly Almost).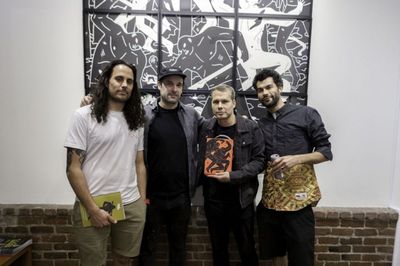 [Greg with Shepard Fairey, Cleon Peterson and VNA's Roly]
Last Saturday, Greg and another member of the VNA team hopped over to sunny LA to launch the latest issue at Subliminal Projects on Sunset Boulevard, the gallery owned by artist Shepard Fairey. 
The cover artist for the new issue is Cleon Peterson, the lead designer for Shepard/Obey, who is blowing up in his own right these days with art fans and collectors alike. Cleon, Shepard and a handful of LA artists made the trip to the launch and helped make it a memorable event.