We like to keep a close eye on D&AD's series I Wish I'd Done That. So it made us really happy to see that Steve Vranakis, ECD at Google Creative Lab, says he wish he'd made The Other Side for Honda.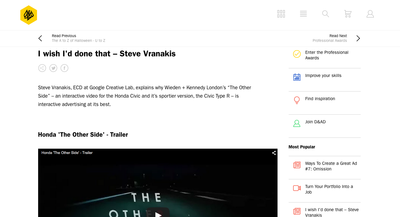 The things he says about our work are really nice, too. For example: 'The agency should be commended for pushing their creativity to new places and embracing technology in a whole new way. And the client applauded for their bravery and belief in their agency. This stuff is difficult.'
Check out the full interview here.