So, farewell then, 2014. It was fun while it lasted, mostly.
Not a bad year for us at W+K London. Campaign mag again rated our performance as 'excellent' in their school report.  In Campaign's 2014 'top 100' league table of agencies by billings we rose seven places from number 20 in the UK to number 13, with a reported rise of 25%. According to Campaign this made us the fastest growing agency in the UK top 20 last year.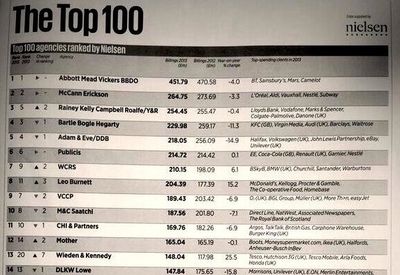 And we were ranked 'agency of the year' in The Drum's Census 2014, which evaluates client satisfaction, peer recommendation, creative performance and financial performance.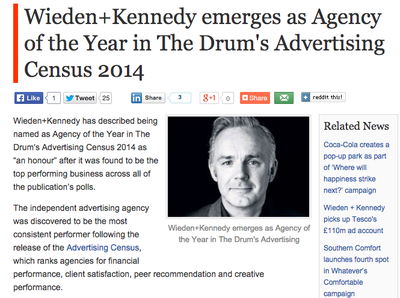 We did some strong work this year, in particular on Honda Type R, Three 'Sing It Kitty' and 'Holiday Spam'.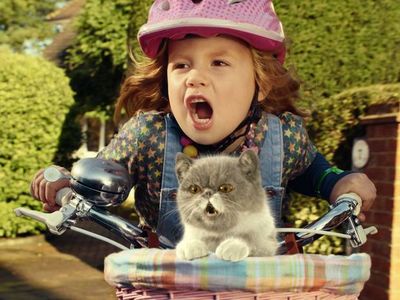 Cravendale 'Barry the Biscuit', Nike CR7, Lurpak 'Cook's Range', Stride 'Mad Intense', Chambord 'Because No Reason', Arla 'Let In The Goodness' and more.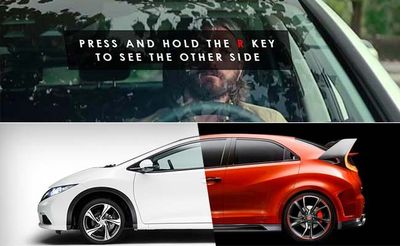 We picked up a number of awards, including: Cannes Effectiveness Lion for Lurpak Weave Your Magic, Cannes Lions: three gold (Lurpak Cook's Range), two silver and a bronze lion (Honda Hands), seven British Arrows (two gold, two silver for Honda Hands, two siver for Three The Pony, one silver for Lurpak WYM), FAB Awards grand prix and gold (TV) for Lurpak Cook's Range and at Creative Circle we won two golds for Honda Hands and the President's Award for ECDs Tony Davidson and KIm Papworth.
We had a successful year on new business, winning UKTV, Finish, Trident, Trebor and Tyrrells crisps, plus a couple more we should be able to announce early in the new year. In fact, we had a 100% conversion rate on pitches in 2014.
We hired 51 new people and there were a number of key appointments and moves: Iain Tait (re)joined us as ECD, from his previous position at Google Labs in New York (Kim Papworth stepped aside fro  the ECD role but continues as Creative Partner) Helen Foulder was promoted to Deputy MD, Andy Kay was promoted to Head of Account Handling, Paul Colman became Chief Strategy Officer and Beth Bentley was promoted to Head of Planning.
We launched a number of internal intiiatives and external partnerships, including:
– The 'Forever Curious' creative spark workshops and exhibition with Millfields and Newport Primary Schools
– The 'Handy Little Thing' skill swap scheme
– The launch of tech project 'In Your Hands' at WIRED Next Generation
– The International Exchange: Ben Shaffery is going to Malawi to help develop sustainable farming
– And we launched the Spore Fund to help get students' personal projects off the ground. These included a tea brand, a short film,  a music video and a saucy Snapchat lookbook for independent lingerie brand 'Miss Crofton'.
And we expanded to new space in round the corner in Wilkes Street and continued planning for a new building in 2015 as the agency continues to grow.
And finally, a nice piece in Forbes magazine the other day in a feature on 'most influential agencies of 2014'. Here's what they said:
Wieden+Kennedy, arguably the most consistently inspired agency of the last 35 years, continues to do high-profile work for the likes of Nike, Procter & Gamble's Old Spice, Chrysler and Coca-Cola. W+K's unambiguous commitment to the mantra of creativity results in standout work. With only eight international offices, W+K introduced the concept of a "mini network", and effectively competes with traditional ad networks that have hundreds of offices.
Signing off for now until 2015. A merry Christmas and a happy new year to all our people, clients, friends, families and followers. Have a good one.