We despatched a crack team of creatively oriented W+Kers – art director Karen Jane (aka KJ), talent manager Ashley (aka Shack-Attack), and head of studio and design, Maya (/////) – over to Dublin last week to check out the OFFSET design conference. Here's a roundup and some highlights from KJ: 
Last weekend Maya, Ashley and I were lucky enough to escape London and attend the Offset conference in Dublin, Ireland. Offset – which is held over 3 days – is a showcase of talks and interviews from a selection of acclaimed Irish and International designers, animators, illustrators, artists, photographers and advertising folk. The 2014 event saw 24 speakers take the stage and share their thoughts on working process, inspiration and influences.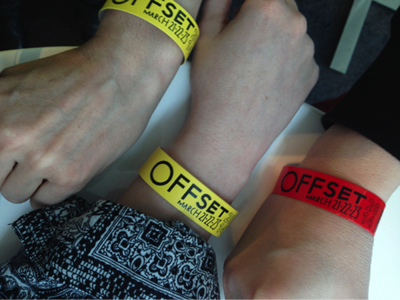 Housed in the relatively new Bord Gais theatre, the conference was smaller than I imagined it would be, but in a really good way – an intimate affair with a friendly feel rather than a vast sprawling event.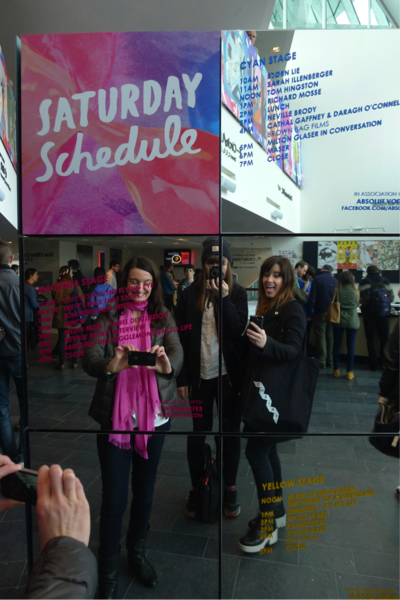 Over the weekend we saw 18 x 1-hour talks, of which almost all yielded fruit of some kind or another. Here are just five of the highlights:
Marina Willer from Pentagram talked about embracing theories of 'out of control', which she applies to her practise of creating flexible identity systems with her team. She praised being 'not practical' in the expression of design and colour, her influences from her homeland of Brazil and how her children's view on the world was always refreshing and imaginative. Favourite quote from one of her twins: "Is is dark inside me?"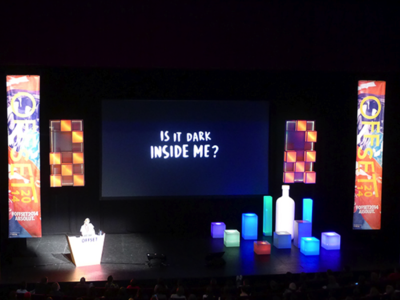 Jessica Walsh praised the benefits of creative play, following your gut, and getting off the computer to make stuff. And how this free working process can feed back into your daily practise and client work. She used examples of her impressive self-initiated typographic works, and numerous naked photoshoots from the Sagmeister & Walsh studio, alongside client pieces that were highly influenced by their play-infused processes.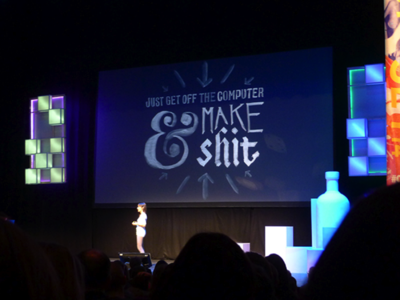 Photographer Richard Mosse described his camera as 'the beast that ruined my life' and then proceeded to show us a trail of his documentary work that lead up to his incredible Infra Red series – a project featuring warring tribal fractions in the Congo, transformed into vivid colour through experimentation with Infrared film.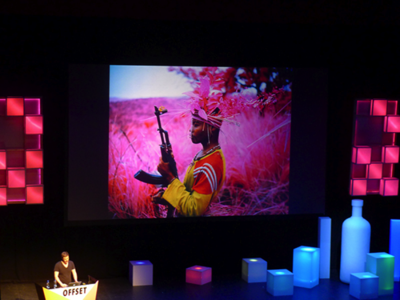 Neville Brody, design legend and Head of Communication Art & Design at the RCA talked about working process, education and how edges between different creative disciplines were blurring. He shared some work from his studio – such as the redesign of The Times, as well as the recent rebranding for the RCA undertaken with Margaret Calvert of roadside signage fame, and encouraged us to make trouble and not to be too nice.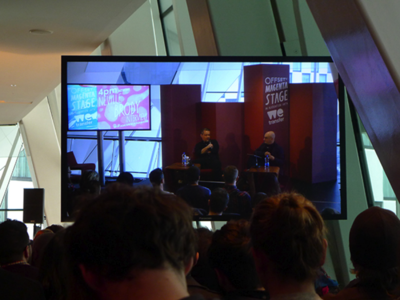 Marion Banjtes, illustrator and typographer, talked of her love for obsessiveness, collecting pictures of sidewalks, and having something to say in your work. And pleaded "find something to say with the alphabets you create!" She then shared her vast selection of intricate work and explained how she was now going to work in a completely different way after releasing her monogram of work and closing that chapter of her creative career.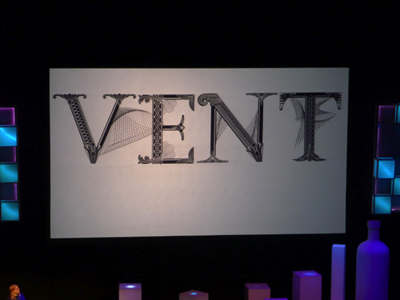 The full schedule of speakers is here. 
No matter what your connection to design is, I'd predict that it would be impossible to leave Offset without experiencing some manner of zap to the brain. For me as a designer, art director, and more recently mentor, this avalanche of information served as a great reminder of why I love what I do. There's nothing more inspiring than hearing people talk passionately about their work and what makes them tick, to remind you what your own version of that is. And ultimately, to reconnect with that.
Through these talks I was also reminded of numerous important things that are easy to forget when in the throes of a working day in a busy agency. So, in the name of my failing memory, I have jotted down a few things that I want to make sure I remember from the weekend. A note to self, if you will:
Play more, question less
It's not all on you – it's always team-work that gets to the best work
Don't be polite with your work, don't be nice
Get off the computer and make shit
Adjust your working process to help you get to something exciting
Keep stock of ideas/ techniques you have created that you can pull on later
Always try to be doing stuff in new ways, don't repeat
Identify what works for you and build on that – don't be afraid to kill your ideas
Get involved within the community. The world is a design problem.