Creative team Toby and Selena recently returned to these shores – originating from Melbourne, detouring via Amsterdam. Having frequented W+K London once before, they understand UK culture, our people, our tastes…
But when invited by Campaign to critique a series of recent radio spots, they sought some advice. From experts. Those who constantly listen to the wireless. Who have plenty to say on this (and for that matter, every) subject. Enter our Hackney Carriage licensed London black taxi drivers.
Armed with the six radio ads to review, Selena set off to Liverpool Street Station's taxi rank around midnight one Sunday and patiently waited in line. Explaining to the drivers how she would love to hear their thoughts, they each duly invited her to pop in the back and play the ads as they ranked up waiting for their next job.
Selena has worked with some mega global talent in her time but possibly none as passionate, opinionated or self-assured as these men on the midnight shift. With the radio constantly blaring out, they know their stuff. And they know what they think about it: good or bad, but rarely indifferent.
Below is the excerpt from the latest Campaign. A little doctored (references to prostitution edited out) but with the sentiments of our capital's cabbies in tact.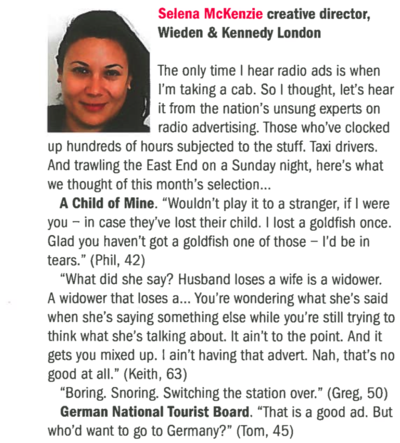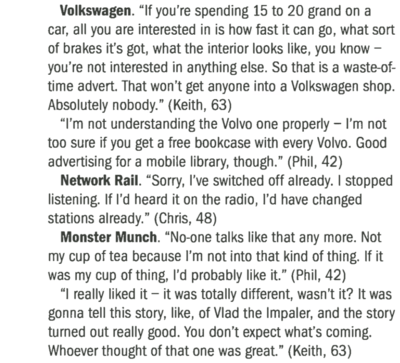 Usually when we can't find people in the agency, our reception puts out a 'bing bong' tannoy. Going forward with Toby and Selena, we'll just head to the Liverpool Street taxi rank where we expect to find them conducting some more 'focus group qual'.