I received a letter this morning. It suggests that our Honda 'Cog' ad still has the power to fascinate and is perhaps now capturing the imagination of kids not even born at the time it was originally aired.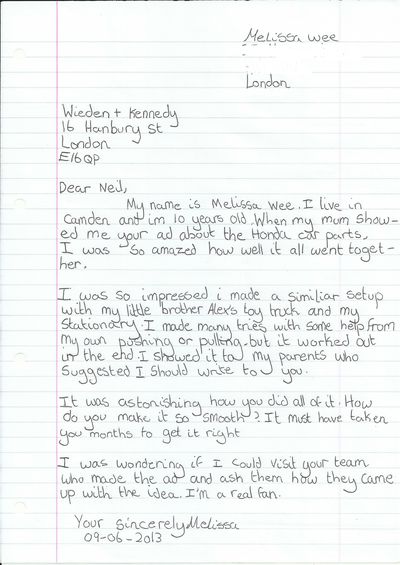 I can't help thinking that a visit to our office will be a bit of a disappointment for Melissa – it's just like a normal office only more untidy – but it's a very good letter for a ten year old. Neat handwriting and only a couple of errors. Perhaps there's a future for her as a copywriter.
For Melissa and anyone else out there still not familiar with the story of how the ad was made, here it is again:
Update: AdWeek covered this story "10-Year-Old Writes Love Letter to Wieden + Kennedy About 10-Year-Old Honda 'Cog' Ad – The spot that keeps on giving" and said, "A commercial that inspires a love letter from a child a decade after it was made—that is special advertising."
And there was a nice comment posted on the Adweek site in response to the story.