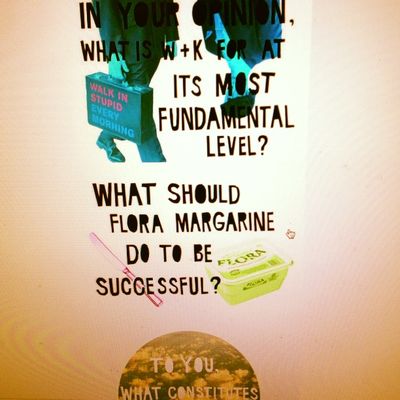 So those of you who follow the blog will know we ran an application and interview process in late 2012 to find potential Planners to join our team for a three month placement in 2013.
We were graced with over 500 applications, from all around the world and from all different backgrounds. Thank you to everyone who made the effort.
Eleven candidates came to see us for an interview day. The kitchen flooded, we lost power, we couldn't offer anyone a cup of tea, but we made it through together. Everyone put in a strong effort and really impressed our judging panel.
Since then, we have been lucky enough to confirm this week three young Planners who will be joining us each for three months this year. More on them once they arrive.
In the meantime, we have collated all our feedback from the applications to help you next time. Here's our top W+K ten application tips.
1.    Understand who you're talking to
This is a Planner's bread and butter – understanding your audience's needs, desires and motivations. You need to show this same understanding when applying to be a Planner. The person reading your application probably has a pile of over 50 applications sitting in front of them. How do you make sure yours is noticed? Make it simple for them to read it and quick for them to find your best bits. 
2.    Speak to your audience personally
Show you understand them, show you know who they are. Like with W+K, show you understand our values and culture, that you've gone further than copying and pasting our website homepage.
3.    Be careful with 'zany' applications
In a bid to stand out, don't damage your application chances. Gimmicky language and CVs that the reader has to 'decode' can make it hard for us to get to your best bits. Be confident in allowing your application to speak for itself.
4.    Keep it simple
When writing briefs, Planners need to be able to distill complex information into a straightforward solution. Treat your application in the same way. Don't overwhelm us with information; give us a topline so we want to read on. You may have life-changing genius on page 23, but that's no good if we stopped reading at the third paragraph.
5.    Research, research, research
Show you've done all you can to get to the bottom of a problem. Read a book, do a Google search, download a market report. But even better get out there and speak to people, go to watch people shop in Tesco, see what people are saying online, ask your friends, your mum, your six year old nephew. Get as many opinions and facts about the problem as you can.
6.    Then, FILTER
Now you've got all your data, separate the 'useful' from just the 'interesting'. Interesting is great, but useful helps you solve your problem.
7.    Structure your argument
So important! Think about the argument you want to make with your answer. Say it, say it, and say it again. Use the introduction to set up the problem, the bulk to go into depth and the conclusion to draw it all together in an inspiring way. Use formatting to help signpost the reader though your argument – bold, italics, bullet points.
8.    Present it well
Planners spend their days having to present information to people and how you do this can make all the difference. We're not saying style over substance, but don't underestimate the power of a well-styled document. What's more, considering the presentation of your answer forces you to prioritise the most important points.
9.    Sweat the small stuff
We're all human, we get that. (And thanks to those avid readers who spotted the cunningly encoded mistake in this very post!) However, taking the time to proof read can make all the difference. We spotted spelling mistakes, typos, untitled CVs, questions missed out, clients' names spelt wrongly and even our own name spelt wrongly!
10.   MOST IMPORTANTLY show us who you are
We're an agency made up of people. People we like. Curious people. Funny people. Smart people. People who cook. People who run. People who have hidden talents. Show us you are one of those people. We want to see more than just the stuff that makes you fit the job description. We want to know about you, because you're great.
Thanks again to all who got involved, we only wish we could squeeze you all in!