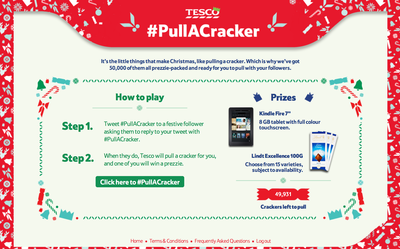 Tomorrow sees the launch of our first big interactive project for Tesco.
Using a clever bit of jiggery-pokery (technical term) with the Twitter API we're encouraging users of the platform to pull a cracker with each other, simply by @ing someone with the hashtag '#pullacracker'. Once two people have connected, Tesco provides a digital cracker for them both to pull, complete with a prize and a 'dad gag'. Because it's the little things that make Christmas.
My favourite cracker gag:
How did Good King Wenceslas like his pizza?
Deep pan, crisp and even.
More details here.
Coverage from Retail Week:
Tesco is giving Twitter users the chance to pull a virtual cracker from tomorrow to win prizes from chocolate bars to Kindles.
On Saturday December 15, 50,000 online crackers will be ready to pop. To be in with a chance of winning, players using the hashtag #pullacracker and their followers who reply also using the hashtag will be sent a unique automated link to an animation of their cracker being pulled. That will then reveal which player is the winner.
Someone will win in every game, and there will also be traditional cracker jokes.
The game, created by Wieden + Kennedy, will be promoted across Twitter and Tesco's Facebook page.
Digital and social director Tom Daniell said: "We're looking forward to lots of people joining in the festivities this weekend by pulling a virtual cracker. We know it's the little things that make Christmas, like groaning over a cheesy cracker joke with friends or family. It's great that social media means we can help people all over the country share more of those moments, and of course they'll all be in with a chance of winning a treat."