A picture of the Internet
as drawn by Bushra Hasan from Community Middle School (Can You Draw the
Internet?)
The Internet is pretty
big. Bigger than most things in fact (sort of) and there's an awful lot of
really interesting stuff going on all the time that people should probably know
about. That's why, fresh from hearing "Have you seen this…" or "OMG I can't
believe that video where…" far too
often, the team at NSFWK have
decided to compile a weekly trend report on what's going on in the palatial thingamajig
that is the World Wide Web.
Every week we'll take a
snapshot of the UK's most popular videos, top search results, most shared
images, most used hashtags, and most popular new apps. It's focused mainly on things that have originated and been made specifically
for the web. There will be branded stuff on there, but not just TV ads that
have had loads of media wanged behind them; that's not really in the spirit of
the whole thing.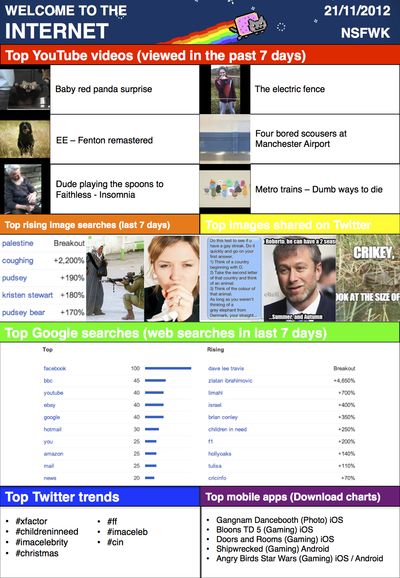 You can download the report (with links) here - Welcome to the Internet – 21/11
We'll also be accompanying it with some
comment and context to set it all in place. Well, we wouldn't let you get off
lightly, would we?
This week has a couple of talking points,
firstly the popularity and success of 'Fenton 4GEE remaster', a video created
by EE to educate people on the how fast their 4G network is. What we commend is
the fact that EE references the source of the original content, something
countless other ads haven't done in the past. All too often content, ideas, and
premises are 'borrowed' from online without ever referencing back and
acknowledging the source. Whilst EE benefits from referencing, as the creative
doesn't really work without it, let's hope that this habit continues and puts
to rest lazy creative types stealing things from online.
The second point is something that we've been
noticing for a while and anybody with half an eye on Twitter's trending topics
will have no doubt spotted as well: the top trending topics from week to week
are totally dominated by prompts and discussions around TV shows, showing the
dominance of second screening in today's front rooms – apparently a nearly
quarter of us are doing it (Deloitte, 2012). But it's not just the programmes…
With people primed and ready to comment on what they see, it's never been
more important to make sure that people have something to say about your ad. And
that doesn't just mean throwing a hashtag on the end frame. As we like to say,
"Move me, dude".
That's that for this week. We'll be back next
week with no doubt more animal videos and people being stupid. If you have any
comments we'd love to know.