HELLO NEIGHBOUR is a creative initiative in which W+K
collaborates with local talent to create installations in our Hanbury Street
window. This Halloween we are launching our first spine-tingling interactive installation, inspired by East London's dark past. 
Whitechapel was once a sprawling slum,
described as "perhaps the foulest and most dangerous in the whole metropolis". To discover more,
we visited Bishopsgate Institute, which boasts a library full of wonderful
history, with insights into every corner of the area. Here we discovered that Wieden + Kennedy's building stands on the site of a former sewing school for women set up by
Baroness Angela Burdett-Coutts.
When her father, founder of Coutts Bank, died in 1822
Miss Coutts become England's wealthiest heiress. Appalled by the foul conditions
of the East End, she set her sights on improving the area. One of her first great works was to establish
the sewing school for young women who had "turned aside from a path of virtue".
Here they could be taught, fed, and provided with work. Whilst her work was of notable success, sadly, she could not save them
all…
The ghosts from this area have dark histories that still haunt the streets to this day. The Hello Neighbour Halloween Window evokes the atmosphere of a time much darker than ours but that can still be found, if we just look hard enough.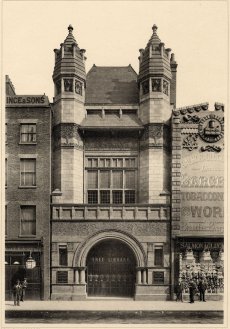 Founded in 1895, Bishopsgate Institute is a hub for culture and learning. The original aims of the Institute were to provide a public library, hall and meeting rooms for people living and working in the City of London. Today the Institute welcomes people with a thirst for knowledge on the local area with access to their library, collections, courses and cultural events. You can find out more HERE.
Developed in-house by our Creative Technologist Will
Hooke, the instillation is built using OpenFrameworks and uses
a Microsoft
Kinect sensor to track the movement of people in front of the window. Working with musician Rose Dagul of Rhosyn, we created a soundtrack to
evoke a haunting atmosphere and entice passersby. As you approach the window,
you might get a glimpse of our ghost.
Come for a closer look, if you dare.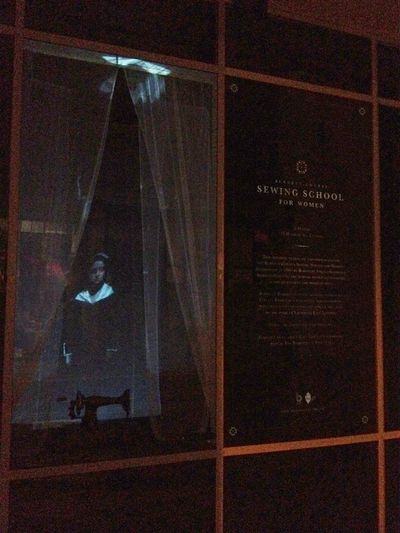 A huge thank you to Willam Hooke, Katie Harrison, Laura Vent, Ben
Hutton, Nico Engelbrecht, Lucy Pearson, Rose Dagul, Alex Rogers, Sophie
Bodoh, Karen Jane, Tony and Kim and all at the Bishopsgate Institute. A special thank you to our resident ghost, Chloe Roseman.
If you work or live within a one-mile radius of the
agency and would like to collaborate with us, the Hello Neighbour team would
love to meet you. Email: hello.neighbour@wk.com.