The
following is a longer version of a letter published in Marketing Week on September 20th
2012.
It
was written as a response to a piece in the same magazine consisting of views
from senior UK marketers on what makes for a happy marriage between agency and client.
(Agency relationships: Keys to a happy marriage / CMO Strategy
September 2012 | By Maeve Hosea) 
I
wrote the letter because I thought it might be useful to offer an agency
perspective on the same topic. It's very much based on the philosophies and
approach of W+K but I hope some of this may have wider relevance.
Learn to be stupid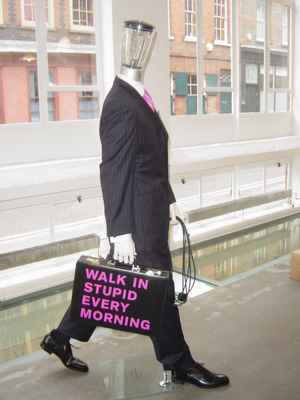 Agencies and clients have to learn together to be stupid. At Wieden +
Kennedy we have a saying: WALK IN STUPID EVERY MORNING. This is a reminder to
us, and our clients, that we know nothing. Whatever business you're in the world changes
overnight and if you assume you know all the answers, then you're not just stupid, you're dead. So, forget
everything you know about advertising. The only rule is: there are no rules.
Forget everything you've learned about methodologies and proprietary strategic
tools and insight-mining workshops and all the rest of it. Not because these
things aren't
useful. But because they're useful for developing campaigns that are like everyone
else's
campaigns. They're useful for developing advertising that is just…
advertising. Which is boring. Which people ignore or avoid when they can.
Great marketers and great agencies break the rules. They
never adhere to the status quo. They Innovate with products and with strategies.
The real power comes when you break with established belief systems and treat
your category in a fresh manner. Boring, undifferentiated advertising that looks like your
competitors' advertising is the last thing that you need. So don't ask or allow
your agency to do it.
Embrace failure
W+K T-shirt – above.
How prepared are you to encourage your agency to take risks? Great
marketers are prepared to fail sometimes. In organizations where the first
priority is 'not
to fail' – those
places where the philosophy is 'Whatever you do, just don't screw it up' – there will never be
innovation. Because innovation, by its very nature, is all about trying
something that has never been tried before. And innovation is vital in your
marketing as much as it is in your product design – you don't get extraordinary
results from ordinary strategies.
Feeling some safety in risk-taking is vital in the creative process. No
one likes to make a mistake, but creative people must have room to manoeuvre.
We need to feel we can take a risk without losing the account, without losing
our jobs. Please allow your agency to fail every once in a while. They will
create bigger and braver ideas as a result.
The brief is
an inspiration, not a rule-book
The best way to build partnership with your agency is to get them
involved sooner in the process. Don't sweat 'The Brief'. The strategy is
critical – you have to know where you are going. You have to be clear about
what you want. But it's not an end in itself. 
Sometimes the writing of the 'perfect' brief gets in the way.
You don't run the brief, you run the work. The work –
and what it does for you out there in the real world – is the only thing that
matters. The brief should be an inspiration, not a set of rules that inhibit
thinking. Be willing to recognize and run with a big idea. Sometimes a great
idea strays from the original brief, but is a much bigger idea than the initial
strategy.  Be courageous enough to recognize
that and let magic happen.
The fewer the decision-makers, the better the work
Agencies can take rejection. We're used to it. But what we hate is the
slow death of an idea at many hands. The quicker and simpler you can make your
decision-making process, the better. A general guideline is that the more
people in your organisation who need to input into creative development and
approval, the worse the work will become and the more likely your agency team
will be to give up striving for greatness and instead just focus on getting off
your account ASAP or getting their CV out to the headhunter. Because smart, talented
people have options. They want to enjoy what they do. And if they don't enjoy
working on their account they'll leave it. What you'll end up with on your
account is the people who have fewer options. Because they're that bit less
smart, less talented. And your business will suffer.
Make no small plans
Agencies are populated by hungry, hard-working, ambitious dreamers.
Recognise this and set the creative bar as high as you possibly can. Inspire
us, challenge us and encourage us to do the best work of our lives. Show that
you believe in the power of insight and creativity to drive your business.
Champion excellence and innovation, and we will move mountains and neglect our
beloved children for your sake. Think small, and you'll get small ideas and
small results. Dream big and together, you and your agency might just change
the world. And sell shedloads of stuff while you're at it.
Update: conicidentally, here's a post on the same topic by Martin Weigel, planning director at Wieden + Kennedy Amsterdam from his blog Canalside View.