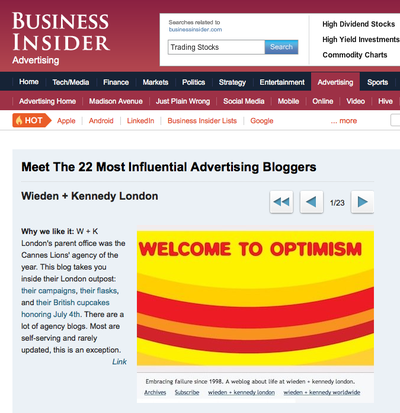 Business Insider is kind enough to rank this here site as number one in their list of the world's most influential advertising blogs. (To be fair, it's not clear that the list is ranked with any intended hierarchy, but we are named first out of 22.)
They say:
Wieden + Kennedy London's parent office was the Cannes Lions' agency of the year. This blog takes you inside their London outpost: their campaigns, their flasks, and their British cupcakes honoring July 4th. There are a lot of agency blogs. Most are self-serving and rarely updated, this is an exception.
Thanks, Business Insider.
W+K Shanghai's Rib Campbell also makes the list with his blog The Musings of an Opinionated Sod. He comments:
So I've just found out that Business Insider – an organisation that I previously always assumed was smart and insightful – have put this blog in their article Meet the 22 Most Influential Advertising Bloggers.

I know … I know … saying any 42 year old, Birkenstock-wearing Queen fan is anything other than tragic, is utter madness.
That said, as much as I'd like to act all casual about it, I feel ridiculously chuffed about it – mainly because I know I shouldn't be there and I feel I've just bagged a night with a young Angelina Jolie who has mistaken me for some big shot movie producer.