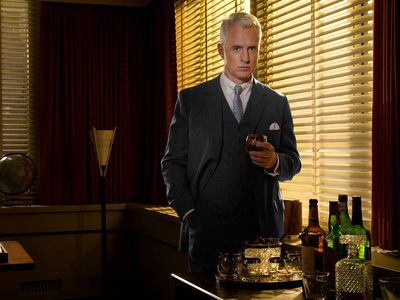 Mad Men's Roger Sterling – perhaps not the ideal agency manager role model.
Some more words of wisdom from that book by David Ogilvy (see previous post).
Ogilvy talks about corporate culture, at a time before the need to cultivate a strong company culture was accepted wisdom in business circles. He says, "The head of one of the biggest agencies recently told me, 'Ogilvy & Mather is the only agency in the world with a real corporate culture'…Here is how I see our culture…"
Though much of the book now seems out of date, Ogilvy's cultural precepts still seem relevant and they bear repeating:
"Some of our people spend their entire working lives in our agency. We do our damnedest to make it a nice place to work.
We treat our people like human beings. We help them when they are in trouble – with their jobs, with illness, with alcoholism and so on.
We help them make the best of their talents, investing and awful lot of time and money in training. Our system of management is singularly democratic.
We don't like hierarchical bureaucracy or rigid pecking orders.
We give our executives an extraordinary degree of freedom and independence.
We like people with gentle manners. Our New York office gives an annual award for 'professionalism combined with civility'.
We like people who are honest in argument, honest with clients and, above all, honest with consumers. We admire people who work hard, who are objective and thorough. We detest office politicians, toadies, bullies and pompous asses. We abhor ruthlessness.
The way up our ladder is open to anybody… in promoting people to top jobs we are influenced as much by their character as by anything else.
The recommendations we make to our clients are the recommendations we would make if we owned their companies, without regard to our own interest.
What most clients want from us is good advertising campaigns. We put the creative function at the top of our priorities.
The line between pride in our work and neurotic obstinacy is a narrow one We do not grudge our clients the right to decide what advertising to run. It is their money.
We attach importance to discretion. Clients don't appreciate it when agency leak their secrets…
We have an infuriating habit of divine discontent with our performance. It is an antidote to smugness."
These still seem like excellent principles for any agency to try to live up to. Ogilvy goes on to discuss what he believes is important for an agency manager:
"In the advertising industry to be successful you must, of necessity, accumulate a group of creative people. This probably means a fairly high percentage of high strung, brilliant, eccentric non-conformists. Like most doctors, you are on call day and night, seven days a week. This constant pressure on every advertising executive must take a considerable physical and psychological toll…
I admire people who work hard, who bite the bullet. I dislike passengers who don't pull their weight in the boat. It is more fun to be overworked than to be underworked.
I admire people who work with gusto. If you don't enjoy what you are doing I beg you to find another job. Remember the Scottish proverb, 'Be happy while you're living, for you're a long time dead'.
I admire people who hire subordinates who are good enough to succeed them.
I admire well-organised people who deliver their work on time. The Duke of Wellington never went home until he had finished all the work on his desk.
It is sad that the majority of men who are responsible for advertising today, both the agents and the clients, are so conventional. The business community wants remarkable advertising but turns a cold shoulder to the kind of people who can produce it. That is why most advertisements are so infernally dull… Our business needs massive transfusions of talent. And talent, I believe, is most likely to be found among nonconformists, dissenters and rebels."
Wise words.