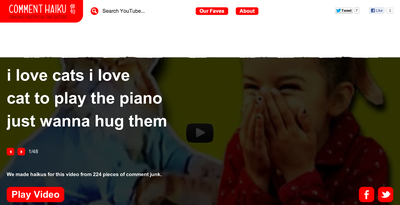 Look under most YouTube videos, and you'll see comments.
And while a few may be nice, there is a reason why people refer to YouTube as an "engine of hate".
But today, Wieden + Kennedy Portland's tech posse unveiled an experimental art piece called #commenthaiku. #Commenthaiku grabs sentences out of the comments under your favorite YouTube videos and turns them into haiku. It's 'Satori-made-simple': Try it here.
Hattips to Grant Thomas + Nilesh Ashra (backend), Josh Perez + Steven Skoczen (frontend), Josh Boston (design), AND – as with most interactive things – the heap of other people who helped hammer it into shape and make it fun – and had to train a computer on what makes for a decent poem. Seriously. But you be the judge!
#commenthaiku joins W+K'er Jarod Higgins's recent "Ode to the Underbelly" (a book of poems handbuilt from YouTube comments) in the W+K fight to turn hate into art! And of course, there was that Honda campaign we did about the power of hate being used for good…