Last night we immersed ourselves in our creative and cultural surroundings on the 'Alternative London' tour. Operating a 'pay-what-you-like' fee system, we love the fact that the tour was born out of proper passion for street art rather than for making money.
Working in Shoreditch we see a massive amount of street art on a daily basis (including the giant Conor Harrington piece right outside our front door) but how much of it goes unnoticed? Well, quite a lot as it turns out!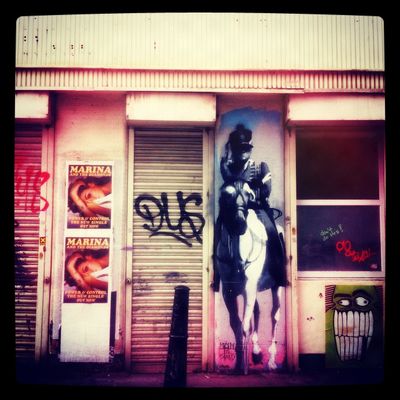 We arranged to meet our guide by the Goat statue in Spitalfields Market and we have to admit that, with Summer finally here, we were all feeling a bit hot and sticky and wondered if we should have opted for an ice cold beer instead. However, that all changed as soon as our guide arrived. Rocking a massive smile and wearing the exact same T-Shirt AND luminous pink Nike trainers as our "stunning" office manager Ronny (his words not mine) it wasn't long before we knew we were in safe hands (and feet) with Gary (pictured left, below).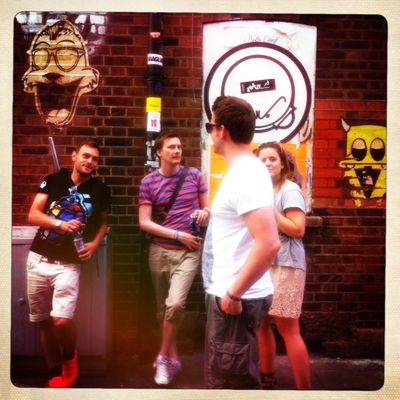 Generally there is a misconception that street art is just about graffiti, however, Gary pretty much dispelled that myth straight away. The tour included variations of street art such as brass statues, miniature statues, 3D art, stencils, paste ups and murals chiseled out of concrete. And as well as learning about the artists we also learnt about local history, people and culture. In fact, our very first stop on the tour was a bollard where Gary pointed out that half of us were standing in the City and half of us were standing in the East End (City bollards are the ones painted red, white and black).
By the time the tour had finished we had seen works by David Walker, Dscreet, Vhils, Pablo Delgado, Phlegm, C215, Citizen Kane, Banksy and ROA to name but a few.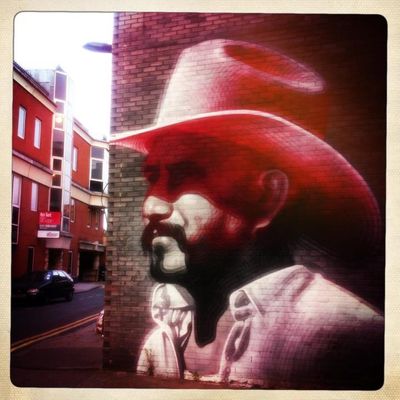 We're loving our street tours here at the moment and Gary informed us he's just started up a new bike tour so watch out London…