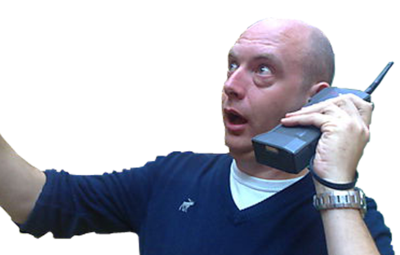 W+K Planning Director Kevin Chesters (shown above, not actual size) is renowned for his colourful turn of phrase. He is master of the metaphor, a sovereign of the simile. Here are a few choice examples, as collected by Miss Naomi Bartle, a keen follower of the phraseology and flow of the self-styled 'Vasco da Gama of Strategic Planning'.
Read and marvel…
– I want to avoid using research as a drunk uses a lamp-post: for support, rather than illumination.
– Sounds a bit 'Janet and John'
– About as creative as my cock
– Bottom-feeding daytime ratings
– It is colder than a penguin's knob
– If you're a hammer, everything looks like a nail
– Olympics sponsorship is like going on hunger strike, you can't sort of do it
– The world is complex; it doesn't matter if you've got 100 sheep fucking off everywhere so long as there is a fence around them
– We work in advertising; we're not space shuttle pilots.
– I write the spells, I don't have to wave the wand
– Just because there's an arsonist in your neighbourhood doesn't mean you burn down your own house
– It's not about the minutes you spend on the pitch it's the goals you score when you are there
– I create the magic, I don't polish the cauldrons
– Harry Potter doesn't write his own spell books
– If ifs and ands were pots and pans there'd be no need for tinkers (quote from Kev's Gran)
– I might swear but I never use filth (quote from Kev's Gran)
– There's less to him than Karen Carpenter's dinner
– Keep one eye on the future whilst dancing in the flames
– It's a little tricky to have this discussion whilst we're still doing more stress tests than the scientologists on Tottenham Court Road.