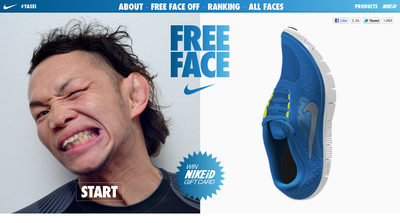 Wieden + Kennedy Tokyo just launched a fun web application for Nike Japan called "NIKE FREE FACE".
 
To illustrate the unrivaled flexibility of the new NIKE FREE footwear, the application allows you to bend, twist and control the NIKE FREE trademark sole using the power of your face through a webcam. The stronger your expression, the harder the shoe works.
You can try it for yourself here. Get grimacing!
 
The web application is built in Flash, and combines facial recognition technology and expression recognition technology. The application first photographs the user's normal facial expression. The application then uses the first expression as a base to calculate facial flexibility from the eyebrow to the chin, and uses this to define the diagonal movement of the shoe. The horizontal movement of the shoe is defined using the level of symmetry of the mouth. In addition, the application recognizes the colour of the user's clothes and the background to automatically coordinate the colour of the NIKE FREE shoe using the NIKEiD customization system.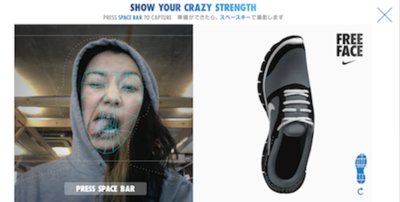 Anyone can do it: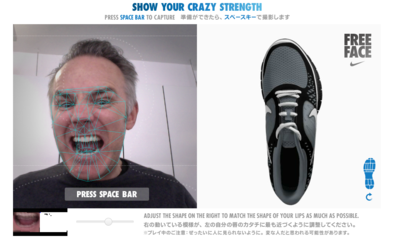 And here's another part of the campaign, showcasing the product benefit of "Super Natural Strength".