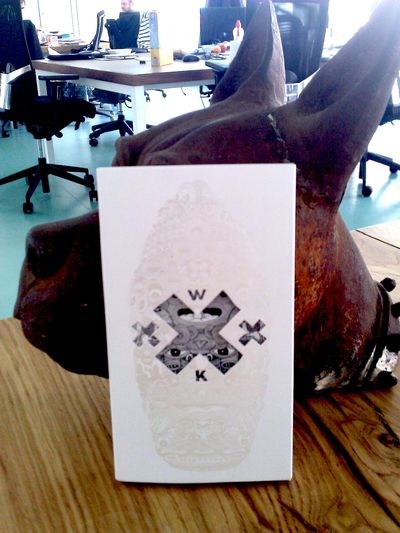 This little book landed on my desk today. It was put together by W+K Portland, with contributions from the whole network. It's a verbal snapshot of wieden + kennedy's 30th anniversary. It compiles opinions, reminiscences and observations about this place by the people who have made it what it is – the ones who have worked here.
Like it says, 'We have no idea where the next 30 years are going. We want to keep it that way because not knowing what we're doing is what we've been doing for 30 years.'
I've been peeking in my copy. It contains some stuff that's moving, some stuff that's funny  and some stuff that's just wrong. Which is about right for this place.
Here are a few anonymous nuggets from the book. Views expressed are not necessarily those of the management, etc.
Why do / did you work at W+K?
– Advertising is mostly pollution. It invades. It's self-important. It's arrogant. It's abusive, instructive, overwhelming, harmful, terrible, invasive, derisive, insulting, poison and Wieden + Kennedy gives you the chance to change all that.
– Nowhere else would have me
– THE WORK BLOWS MY MIND TO PIECES
– Duh. I work at W+K because I enjoy a continual and unrelenting beatdown to the ego.
– So I don't have to get a real job.
What makes W+K tick?
– Chaos and balls.
– Happiness and danger.
– There's a vibration here. A hum. A kind of tremor that bubbles up from under your feet. You don't really know where it's coming from at any given time, you just know when you sense you're above it, when you feel it rattling your pelvic girdle, you try a whole lot fucking harder.
What advice would you give to a new employee?
– If you're wondering whose job it is to sort out That Thing – it must be yours.
– Come in, just try real hard and don't be a jerkface
– Hold on / fasten belt / attach helmet / hold your pee / speak your mind / be smart / be dumb / focus / wander / simplify / ambellish / trip / run fast / keep changing.
Dan says the work comes first. What does that mean?
– It means that the work is bigger than you, or me, or any of us. That we're here to create great work that solves client problems. And if someone (or something) is harming the work then golden rule number one is being broken.
– Talk is cheap. Get with the program. Do epic shit.
– He means working on Saturdays in September, without a second thought. He means being on a first name basis with the graveyeard shift security guard. He means that you've witnessed the caliber of work that has come out of this office for the last 30 years. You saw it on TV when you were in high school. You read about it on the Internet when you were at college. And you will take those images – embedded in your psyche – to the grave. And those images – funny or gruesome, flippant or brazen – were all the produce of extremely talented and uncompromising bulldogs who gave up a lot of Saturdays in September. And every other month of the year.
– Put some hot sauce on your famous self and see what happens.
– It means you don't have to give a shit about the bullshit.
What about W+K infuriates you?
– Crazy bosses that have way too much power
– Working Saturdays in September
– "None are more helplessly enslaved than those who falsely believe they are free" – Goethe

How would you explain W+K to an alien?
– You're not an alien round here, mate
– I can't even explain it to humans
– Beauty through chaos
– A lot like Burning Man, but with running water

What is the perhaps the most personal thing you can say about W+K?
– Working at W+K indirectly caused my divorce. Thank God.
– It was the one place I worked at that always felt like the patients were running the asylum, but it was a place that you would fake crazy in order to stay at the asylum as long as possible.
Does W+K have a social responsibility?
– 'Social responsibility' is one of those meaningless marketing catchphrases like 'best in breed' or 'buyersphere' or 'digital' and thus has no place at this agency.
– Yes. Everyone does. W+K has power, has a voice, is a cultural catalyst. With great power comes great responsibility.
– It's hard for an advertising agency to start talking of themselves in these terms. Hard because what they do is intrinsically socially irresponsible. Aside from the odd charity project, what we do is not making the world a better place, no matter how many rainbows you throw around. Sorry.
– Of course. Do good. Do good things, do good work. Maximise the number of places they intersect.
– Yes. The community that envelops us also helps inspire us. We pick our community and it welcomes us. We should both help each other.
What would you like to forget about W+K?
– Nothing. It's good to remember the shit times as well as the good times. The fuck ups. The 'not in a million years will they go for that' pitches. The 'did we really do that'? It makes you realise that failure is OK and that we don't get it right every time. The trick is to learn from your failures so that you don't repeat the same ones. When Dan first hired me he told me to 'break some eggs'. Th best times are when you are doing somehting you've never done before and are not sure if you're going to pull the damn thing off.
– That one party where everyone misbehaved. You know who you are. Secretly, we're proud of you though.
What is the definition of 'fail harder'?
– Go out on that fuckin' limb. Even if it breaks.
– Fail Harder is another way of saying, "have some cojones". It means having the courage to try something new and different, even (or especially) if you know others will mock or ridicule you. It's a reminder that creating something special is far more fulfilling than always being 'right' or 'perfect'.
That's all for now. Will maybe post some more when I have time.