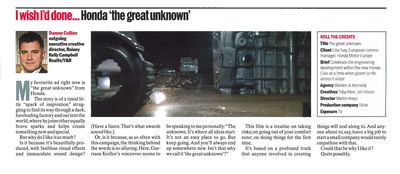 DC, outgoing ECD of RKCR/Y&R (that's a lot of initials) says in Campaign magazine today:
"My favourite ad right now is (Wieden + Kennedy's) "The Great Unknown" from Honda… Why do I like it so much? Is it because it's beautifully produced, with stunning visual effects and immaculate sound design? (Have a listen – that's what awards sound like.) Or is it because, as so often with the campaign, the thinking behind the words is so alluring. Here, Garrisson Keillor's voiceover seems to be speaking to me personally: 'The unknown. It's where all ideas start. It's not an easy place to go. But keep going. And you'll always end up somewhere new. Isn't that why we call it the great unknown?'
This film is a treatise on taking risks, on going out of your comfort zone, on doing things for the first time."