I've just got back from the TED2012 conference and it didn't disappoint (again).
It truly is an incredible experience – four days of having your brain filled with amazing amazingness.
And getting to meet some of the world's truly remarkable people is the real highlight (I'm not talking about W+Ks Renny Gleeson here).
It is fair to say you also have to wade through a degree of bullshit and smugness (not just with Renny either, arf arf). And there are far too many uber-rich VC people in ridiculous sunglasses (with those seriously silly American names like Blake Falconberger III Jnr) knocking about, but the great bits by far outweigh the nonsense bits.
And the food? Man, the food is good.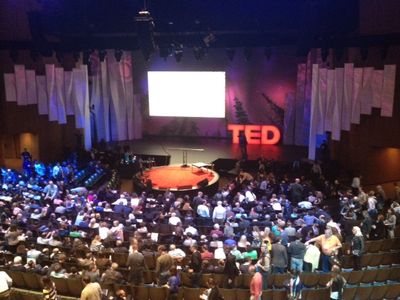 The talks will, as always, go up online over the course of the year but the top 10 to watch out for (IMHO) are/were:
Susan Cain: AUTHOR – A fascinating and enlightening thesis on why we should value and laud Introverts. We tend to encourage and reward extroverts, when introversion is actually how the best and most creative work is done – on our own, in silence. Why are we so obsessed with brainstorms and group work? This one is up already, and well worthy of 18 minutes of your time:
http://www.ted.com/talks/susan_cain_the_power_of_introverts.html
Regina Dugan: DIRECTOR OF DARPA – An amazing and super-scary talk from the head of the US Advanced Defence Institute. You wouldn't believe the shit they are up to – check out the hummingbird drone for starters!
Frank Warren: SECRET KEEPER – The founder of the website – postsecret.com. He invites people to send him anonymous postcards with their secrets. He now has 500,000. Funny, sensitive, scary, poignant, random.
Eduardo Paes: MAYOR OF RIO DE JANEIRO – Really interesting talk from a very successful mayor (er, he just won the World Cup AND the Olympics for Rio!). Talking about how he envisages creating the successful city of the future, and the blueprint to achieve it.
Sharmeen Obaid Chinoy: FILM MAKER / OSCAR WINNER – One of my biggest heroes. She made the documentary – 'Saving Faces' – and seeks to eliminate violence against women in Pakistan by highlighting and documenting it on the world stage. She's lovely and brilliant. And seems to make me cry every time I meet her. She just won an Oscar in 2012.
Tali Shalot: NEUROSCIENTIST – Very very interesting. Incredible talk on the 'Optimism Bias' in human beings – our ability to overestimate the good things that might happen to us (despite the wealth of evidence against it). Witness 30% divorce rates yet every married couple estimate their chances of staying together at 100%! Yet this is a good thing, it makes us happier and more successful ultimately.
Bryan Stevenson: LAWYER / EQUALITY GUY – The stand out (and stand up – massive ovation) talk of TED2012. Talking through the injustices of the US legal system and how you are likely to be treated better as rich and guilty than poor and innocent. And all the amazing stuff he's doing to rectify it.
Jon Ronson: AUTHOR OF 'THE PSYCHOPATH TEST' – My personal favourite talk of 2012. The book is brilliant, and about how we spot or treat psychopaths and their preponderance (seriously) at the top of corporations and how this affects society!!!
Phillipe Petit: WIRE WALKER / MAN ON WIRE – OK I admit, I'm biased because I love the documentary 'Man on Wire'. Getting to meet the taciturn and slightly aloof Frenchman was a good highlight of the conference. Here he is proving that, despite walking across a wire suspended between the two towers of the WTC, NOTHING is scarier than an encounter with W+K Portland ECD Susan Hoffman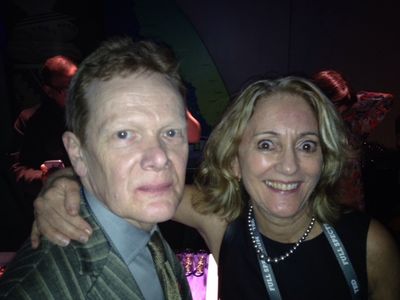 Sarah Parcak: SPACE ARCHEOLOGIST – How we are now using new technology to map ancient civilisations, from space. OK, this one is for the geeks but she basically mapped the city of Tanis from Space. And that's some pretty cool Indiana Jones stuff. And check out her JOB TITLE!!!!!!!!!
And no TED would be complete without some pretty jaw-dropping tech demos, right?:
Jack Choi: ROBOTIC SURGEON – Showcased his virtual autopsy table – the Anatomage. Just watch the talk. It's mind-blowing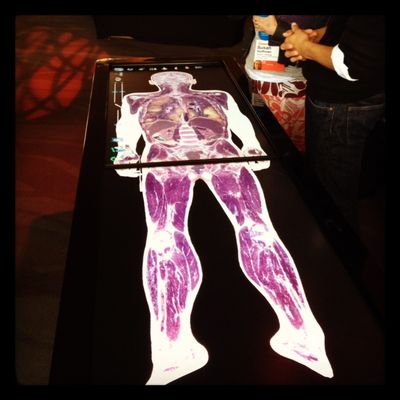 Vijay Kumar: QUADROTOR HELEICOPTER GUY – One of those TED moments – like the kidney guy last year – where you got to watch the future happen. And I guarantee that I see this in about 50 creative reviews within the year.
So, finally some observations/comments:
1. One of the greatest things about attending TED is the opportunity, once in a while, to meet people who you are your personal heroes (or heroines). This year I got to spend some time talking to Sharmeen Obaid Chinoy who is a really remarkable women. An Oscar winning film-maker who now has the dubious honour of making me cry TWICE with her talks. Look up her work, she is amazing.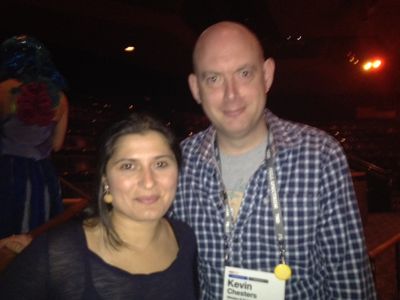 2. It is a great conference, truly inspiring, but is a little bit in danger of disappearing up itself in terms of self reverence. and it is silly for the conference to claim it is not elitist in any way and then charge $7500 to attend it.
3. There were a lot fewer random celebs knocking about this year. And I didn't see Bill Gates this time (although I did see Melinda). And I did get to say hi to Cameron Diaz at the coffee bar and meet the Princess Aga Khan.Tim Berners-Lee was there as usual, and we had our usual two englishmen feet-shuffling one minute chat (as usual)
4. I got to talk to the lovely and brilliant Sarah Kay (who incidentally has the greatest URL in history – kaysarahsera.com). and she might be coming to talk at a friends event later in the year, fingers crossed.
5. I got my DNA sequenced as music. This is a lot cooler than it sounds (the process and outcome, not my DNA).
And finally, California is fucking freezing in February and I really need to learn to check weather forecasts before I visit places.
Oh, and if you want to read about every last thing that got talked about in minute detail they wrote everything up in real-time at:
Kev.