By now, if you live or work in London, you will probably have seen our outdoor campaign launching new Lurpak® Lightest. It's a hard one to miss. It's everywhere. On everything. How very exciting.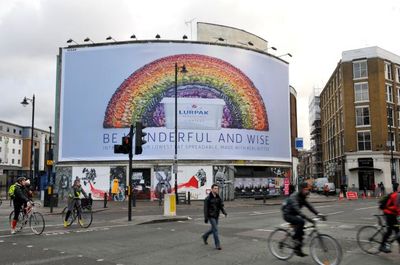 The rainbow was lovingly constructed by hand (not Photoshop, fact fans) by set designer Nicola Yeoman and her team, and photographed by Dan Tobin-Smith. Built over three days, the structure was five metres deep, chock-a-block full of fresh, healthy produce. Over 60 different types of fresh vegetables, fish, grains, bread and fruit were used. Like logos on rugby pitches that are correct from the viewpoint of the camera, but skewed on the pitches themselves, we (and by that we mean Dan and Nicola) used perspective in a clever way to make a larger set but still keep close enough to the produce in order to enable the viewer to make out the detail.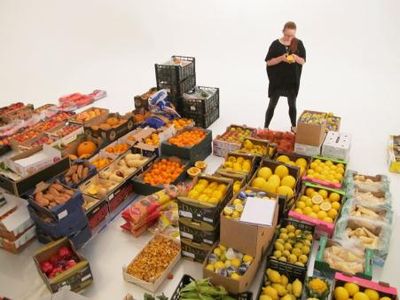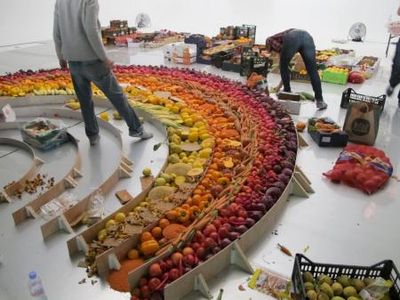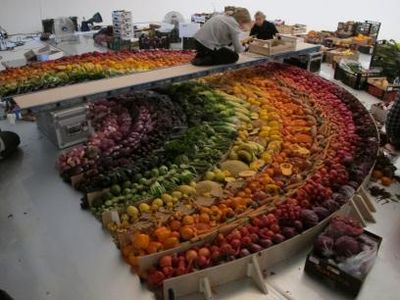 It was important to us that as little as possible of the food brought in for the shoot went to waste.  More than 1.6 tonnes of produce was given away at the end to a brilliant organisation.
FareShare is an award-winning UK charity that fights hunger and food waste in a simple and practical way. They redistribute good food (in-date and good to eat) from the food industry that would otherwise go to waste and get it to people who need it, benefiting vulnerable people and the planet. The charity serves 700 community projects such as hostels, day centres, women's refuges and community breakfast clubs, providing a vital lifeline for disadvantaged people.
Last year, FareShare was able to provide enough food for 8.6 million meals and 35,500 people a day benefit from the FareShare service. For more information, visit www.fareshare.org.uk