I guess writing this post signifies that last night's Google Creative Sandbox was a success. Free advertising, right? Well, nearly. They don't do things by halves.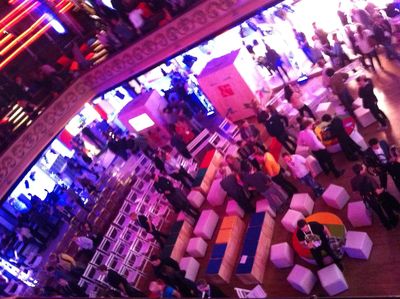 What initially seemed like a simple plug on their product, turned out to be a first-hand, amusing experience of their Google+ video chat service, Hangouts. Sat in a booth in the middle of the event, you could interact with appointed people including a 'mute' caricaturist and my personal favourite, the waitresses operating from the kitchen who sent our cocktail orders directly to us. Lychee and Lavender Martinis, if you must know.
We got some interesting background info on Life in a Day from YouTube's Marketing Director, Anna Bateman. There was an intro to their new campaign drive to get kids interested in Science again – Space Lab. And a good demo on their latest Android operating system, Ice Cream Sandwich. The phone software includes propitious features like Face Unlock and a data usage centre where you can restrict and manage downloads, airtime and the like. This will be especially handy when abroad as it will prevent your phone leaking data, slowly attacking your bank balance like a bullet wound to the stomach.
Post talks, scoffing from the various fairground-themed food stalls and some more L&L martinis, we experimented with an app-enabled HTML5 version of the classic Duck Shoot game. Apparently due to launch before the year is out, it allows the player to use their phone as the gun to fire virtual balls at ducks on screen. Nearly as addictive as the other worldwide bird-based app, so steer clear if you are easily hooked. 
As the crowds fizzled out, we left somewhat merrily with fudge and the particularly stylish, 'Googled' cufflinks which I won in the Crane Claw.
Kramer & Hobbs