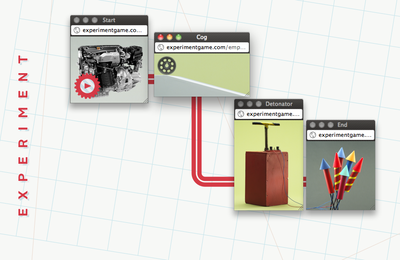 After months of wrestling with thousands of post-it notes and arguing over exactly what a blow-torch might do to a chicken, 'The Experiment' is live and kicking.
Created by Wieden + Kennedy London with the help of B-Reel, 'The Experiment' is a physics-based game played in Chrome, Safari and Firefox that challenges you to place pop-up boxes in sequence. Each video window contains an object that interacts with those around it to create hundreds of possibilities and combinations. After six levels of solving chain reactions you get the chance to create your own and challenge your friends.
Have a go. Experiment. Get it wrong. Set fire to something and share it around.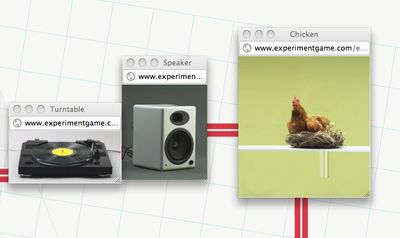 We've only got today to get enough votes to be considered for an FWA Award (Favourite Website Awards). Please click through and vote. If you like it.
The game is one of three interactive experiences Wieden + Kennedy London is creating to support the 'venture into the unknown' campaign for the new 2012 Civic launch.
The campaign centres around the notion that if people never venture into the unknown, they'll never get anywhere new. In other words, pushing the boundaries of what you know is the only way you'll ever discover anything truly unique and innovative. Each experience teaches consumers a different aspect of 'the unknown' and is accompanied by a series of documentaries and films with Honda engineers.
The Experiment is now fully live, with the third and final experience due for release on 7th December.
Play the game at: http://experimentgame.com/ or find out more about it at: http://hondaexperiment.posterous.com/