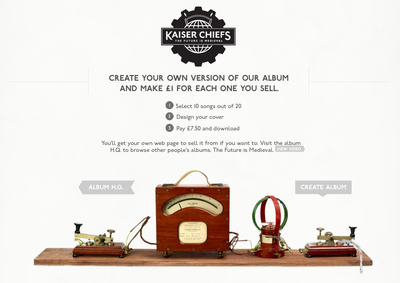 It's no secret that the music industry is having a tumultuous time as it tries to work out how to survive the digital evolution. So when one of our creatives hatched a plan with the Kaiser Chiefs to allow fans to create bespoke versions of new album The Future Is Medieval we were rather excited.
The Kaiser Chiefs Bespoke Album Creation Experience (catchy eh?) has already won August's IAB Creative Showcase award. Hopefully the first of many – and that's where you come in…
The winners of the ever-so-prestigious Adobe Max Awards are determined by public vote. Wonderfully democratic, just as the internet should be. And as our Kaiser Chiefs project is a finalist in the Disruptive Design category, we need YOUR votes to win.
It only takes a couple of seconds. So go on: vote for progress, vote to save the music industry!
The case study film can be seen here. And if you want to take a look at a simulated version of the experience, you can have a play here (thanks to our friends at Special Moves).